The Institute for Quantum Science and Technology is a multidisciplinary group of researchers from the areas of Computer Science, Mathematics, Chemistry, and Physics. The goals of Calgary's Institute for Quantum Science and Technology are to conduct leading research in key theoretical and experimental topics of quantum science and technology, to provide excellent education and training in quantum science and technology and cognate areas, and to foster linkage between the Institute and other quantum science and technology institutes and with industrial partners.
Vision:
To be a world leader in research and education in pure and applied quantum science and technology.
Mission Statement:
To advance quantum science and technology through interdisciplinary research, teaching, and outreach.
VISUAL INFORMATION FOR THE QUANTUM AGE
(1Gb mov file)
The Faculty of Science is pleased to be hosting this year's Killam Prize Lecture Series. This year's lecture will be given by Professor Sajeev John, Department of Physics, University of Toronto.

Join us for Professor John's talk about his research and the age of photonics. What are some current applications for photonic band gaps? How will photonic band gaps be used in the future?

About The Killam Annual Lectures
Each year the Canada Council for the Arts awards five Killam Prizes in the following disciplines: Natural Sciences, Humanities, Health Sciences, Social Sciences and Engineering. These Laureates travel to a "Killam" University to give a public lecture.

Date: Wednesday, September 24, 2014
Time: 6 p.m. with a reception to follow
Location: Lobby, EEEL Building, Main Campus, University of Calgary

This event is free and open to the public. Please register here by September 21, 2014.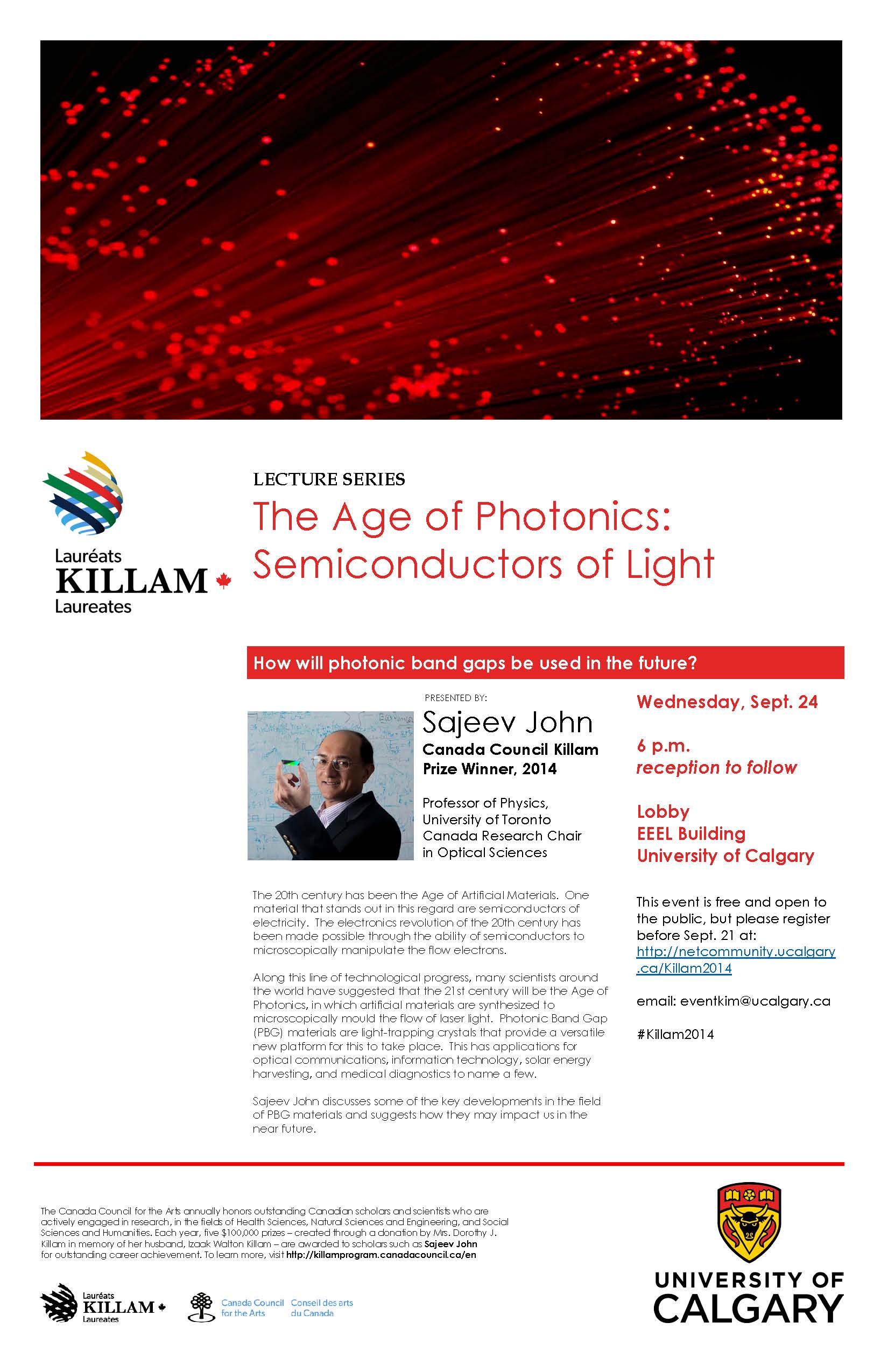 Headlines

Peter Tieleman received prestigious Killam award.

Neil Sinclair won the 2nd best poster prize at QCrypt 2013.

Matthew Mitchell won the 3rd Place at the AITF Video Competition in Banff, June 2013.

Congratulations to Ben Lavoie and his wife on the birth of their daughter Isla June! She was born on Sunday 16 June 2013.

The Physical Review Letters Vol 110 Issue 22 cover picture is from the article Differential Evolution for Many-Particle Adaptive Quantum Metrology by IQST's Lovett, Crosnier, Perarnau-Llobet and Sanders.

Congratulations to David Feder! The Students' Union (SU) honoured David Feder for his commitment to student success at its annual Teaching Excellence Awards ceremony.

Graduate students and Postdoctoral fellows can apply now for support at CryptoWorks21 .



IQST welcomes new members:


Graduate Student: Thomas Lutz
Summer Students: >Daniel Hogg from McGill University, Sourabh Kumar from IIT Kharagpur, Jeremy Witmer (NSERC USRA program)





In the Media:



---

Upcoming

---

IQST Colloquium - Mike Ashfold [University of Bristol]
Co-sponsored by: Department of Chemistry
Friday 24th October, 2014 at 3:00-4:00pm in EEEL 161
"Understanding the chemical vapour deposition of diamond "



---

IQST Seminar - Priyaa Varshinee Srinivasan [University of Waterloo], Wednesday 1st October, 2014 at 3:00-4:00pm in SB 148
"Preserving locality in parallel applications"

IQST Seminar - Saurya Das [University of Lethbridge], Wednesday 15th October, 2014 at 3:00-4:00pm in TBA
" Can quantum mechanics resolve spacetime singularities and make the universe accelerate?"



---
---
Contact Information:
Institute for Quantum Science and Technology
University of Calgary
2500 University Drive NW
Calgary, Alberta, Canada T2N 1N4

Phone: (403) 220-4403
Fax: (403) 210-8876
Email:
Courier delivery: Science B 307 (Science B 605 alternate)





---
For comments regarding this website, please contact
Last updated June 13, 2014