Quantum computer offers safer data transfers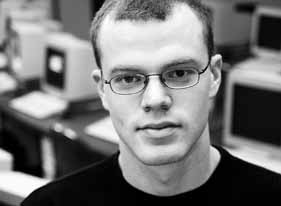 Nick Wiebe
Canadian information technology got a boost this year with the launch of the University of Calgary's Institute for Quantum Information Science, which will focus on developing faster and more secure ways of communicating information.

The Institute for Quantum Information Science (IQIS) will apply the principles of quantum physics to computing in order to more securely encode and transfer information.

"The goal of the institute is to create a framework for conducting outstanding quantum information research in all the major areas, including computer science, theoretical physics, experimental physics, and technology," said institute director Dr Barry Sanders.

Sanders said that using the principles of quantum physics to send information electronically has a number of benefits over the current method of information exchange. Currently, information is sent through computers in strings of zeroes and ones, which are decoded again at their destination. This system, used for phone lines, the Internet, and many other forms of electronic communication, has been largely successful so far, but he says it has some disadvantages.

"[With conventional computers] there are limits to how much security we can get, and there are limits to the certain types of problems we can solve," explained Sanders.

Quantum computing involves sending pieces of information on a sub-atomic scale, which are transformed into readable computer code at their destination.

Essentially, quantum computing sends information in smaller packages, faster and more securely than conventional means.

"Quantum physics gives us a different basis, which is kind of like having all possible information coexisting at the same time," Sanders said.

He added that the application of quantum physics to computing may create a way of sending information without any risk at all of it being intercepted before reaching its destination.

Developing secure communication with quantum computing would have a huge impact on almost everything that people do with computers. E-commerce—commerce done via the Internet—would become much safer, for instance.

Bill Rosgen, a graduate student at the U of A who has applied to do his PhD at IQIS, believes that the institute will be of great benefit to quantum computing in Alberta.

"It's desirable because if anyone does implement quantum computing, it would be good to have an institute here that knew what was going on," Rosgen said.

Researchers also believe that the project will benefit Canada.

"Canada-wide, we don't stand on our own. We rely on the US to provide us with information security, which has loopholes. It'd be nice as a country if we knew that we were secure," added Rosgen.

The IQIS could also be economically advantageous to Alberta. The institute has already established partnerships with different companies that are interested in quantum information technology.

Sanders believes the IQIS will be quick to produce results.

"The goal of having perfectly secure communication—that one is deliverable over the next few years," he said.

Scientists at the IQIS also hope to eventually determine how a quantum computer might be built.

A quantum computer would be able to easily read any information being sent using current information encryption methods, making any information sent in classical ways vulnerable.

"A quantum computer would be like a nuclear bomb to the Internet. Our whole basis for e-commerce security would be wiped out," said Sanders.

"We are working on quantum computing more to study the threat of it than to create a quantum computer."





Wanna respond? Send your feedback to gateway@gateway.ualberta.ca.

Thursday, 3 March, 2005
Volume XCIV Issue 36